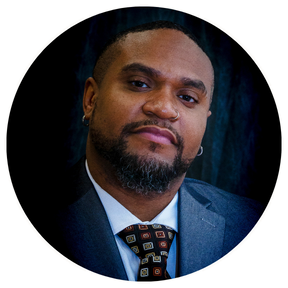 DEONDRE' RUTUES
COMMUNITY ENGAGEMENT SPECIALIST
Based in Chicago, Deondre' is a Community Engagement Specialist for the Policing Project's Chicago Neighborhood Policing Initiative.
Prior to joining the Policing Project, Deondre' worked for multiple Fortune 500 companies, including Nestle, Coca-Cola, and UPS; the Cook County Sheriff's Office; and Chicago Public Schools. He is an entrepreneur and founder of UnRivaled Aura, and a former Aldermanic Candidate for Chicago's 37th Ward. Deondre' spends his personal time serving as the Chairman of Community Engagement Initiative. He is committed to social justice advocacy through his work as an organizer for Black Workers Matter and West Side Rising, and providing mentorship through his work with the College Mentoring Experience. He is also the proud father to a very lovely baby girl.
Deondre' holds a Master of Business Administration and Master of Arts in Industrial-Organizational Psychology from Roosevelt University.